Ohhh... why should we have Monday? And Tuesday, and Wednesday, and Friday? I've really had enough working. Tired tired tired. Bored bored bored. Why couldn't everyday be like last weekend... when we were having parties together. :(
------------
Halloween Party at Excellogix.
It was a costume party, which everyone must wear unusual clothes - scary look prefered. We did. Only some folks did not really dress themselves up, but it was okay. We gave Rp 2,000.- to the EO (can I call you that, girls? hehehe) which is almost nothing! You can probably only drink a cup of coffee with that amount of money in a small warung, but no more else. So I did not expect to have any drinks or food served in that party, unlike some people. :P Well anyway, the money was well spent on the decoration, candies and a present for the winner of the best look. And it was one of the best parties ever in my life. Really... there was this lots and lots of laughs. If you were in a coma of an uncurable disease in the end of your life and you dreamt about this, you would die happily. 100% Guaranteed! And THAT's a compliment, Miss Miss E.O. :D Thanks for such a great party.
Well anyway.. for now.. just enjoy the pictures (I'm in every photo, of course. No protest, huh! This is my blog). Hehehe..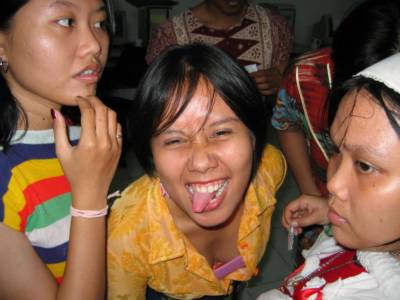 Bakul Jamu Centil

Spidey Carla and Jus

The Prince of Darkness Yendy and Bakul Jamu Carla. Hehehe..